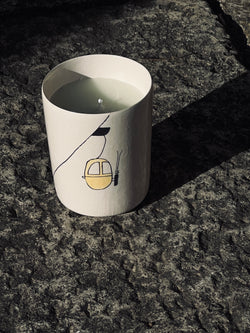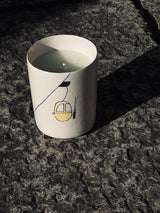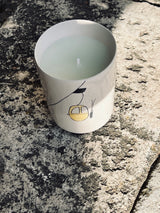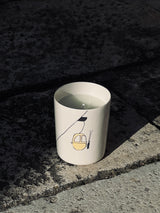 Scented Candle Ski Lift Yellow
Payez en 3 fois sans frais
General Information:
In stock, shipment within 72 hours.
Dimensions: 8 x 9 cm
Capacity: 185 grs
Manufacturing time: 12 days
Illustration time: 15 minutes
Burn time: approximately 45 hours
Rise & shine:

The scent of our childhood, round and sweet. A sweet blend of neroli, orange blossom and bergamot with a touch of nostalgia. The scent was developed by and for Three Seven Paris: we wanted a smell present but not invasive, light and fresh.

For this candle, we chose a 100% mineral wax, known to be the best in terms of olfactory restitution
In order to fully appreciate your candle, we recommend that you burn your candle until its surface is liquid. Avoid letting it burn for more than an hour at a time. The wick must remain clean and short (5mm maximum) to avoid black smoke. If it does, carefully refocus the wax before it hardens.

The wax is poured into our large ceramic kettles. Once the candle is consumed, the kettle can begin its new life. It will sometimes be a glass, a cup for tea, a pencil pot, or simply a decorative object. Give way to your imagination...
Know-how:

The container of this candle is our large Three Seven timpani which has been entirely handmade, following a long technical process specific to our workshop. After the casting, drying and cooking stages, each piece passes through the hands of our illustrators before being enamelled to preserve its color and pattern. After 12 days of manufacture, it is ready to join your tables.

Read more

Composition:

100% earthenware.

In the workshop, we work with a white pouring earthenware that we dye with natural pigments. The ivory colour of our dishes is an integral part of the brand's DNA. Note that the shades of ivory can vary very slightly from one piece to another, The pieces are then illustrated freehand with slip; mixture of barbotine and pigments, before being enamelled in a transparent and food enamel.
Use & maintenance:

- Machine washable
- Cannot be microwave
- Not for use in the oven

The fineness of our ceramic does not compromise their durability in the long term. Handle carefully and carefully, avoiding shocks against your dishwasher, table and between the products themselves.

The Three Seven pieces being made of earthenware, porous material by definition, they do not like water baths, fearing stains and infiltrations. No dipping for them: prefer a dishwasher wash, which in addition to being more economical in water, will ensure an optimal drying of your room to preserve it over the long term.

In case of hand washing, a thin trickle of water will suffice.