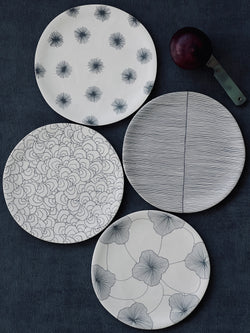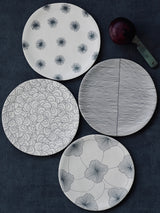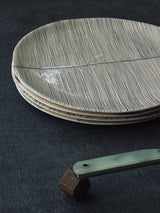 Payez en 3 fois sans frais
General info:
In stock, ship within 72 hours

Dimensions: 23cm

Because we know that there's nothing like dinner parties with friends, and that it's sometimes difficult to choose which patterns to mix and match, we're bringing you our new plate set.

It's made up of 4 presentation plates with different motifs. The ideal mix and match to enhance your table, your gourmet dish or your cakes!

This set includes: 4 principal plates in the Coral Fishbone, Coral Seashell, Flowers 1 and Porcupine S designs.

This set is available for 200 euros instead of 260 euros, or one plate free.
Our know-how:
The pieces of this Three Seven set were entirely handmade, following a long technical process specific to our workshop. After the steps of casting, drying and cooking, each piece passes through the hands of our illustrators before being glazed to preserve its color, pattern and design.
Learn more
Composition:


100% earthenware.
In the workshop, we work with a white clay which we dye with natural pigments. The ivory color of our dishes is an integral part of the brand's DNA. Note that the shades of ivory can vary slightly from one piece to another. The pieces are then illustrated freehand with an underglaze ink; mixture of pigments, clay and water, before being glazed in a transparent and edible enamel.
Use & maintenance:


- Machine washable
- Can be put in the microwave
- Do not use in the oven
The fine and thin aspect of our ceramic never compromises how durable and strong they are in the long term. Handle with care and caution, avoiding impact against your dishwasher, table and between products themselves.
Three Seven pieces are made of earthenware, which is a porous material by definition, and do not like water baths, as this could cause stains and infiltrations. No dip in the water pool for them: straight into the dishwasher is always preferred, which in addition to being more economical in water usage, will ensure optimal drying of your piece to preserve it over the long term.
In the case of hand washing, a light trickle of water will suffice.