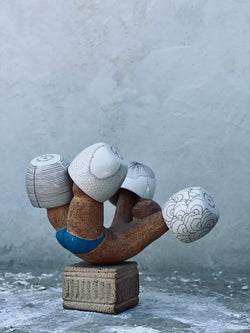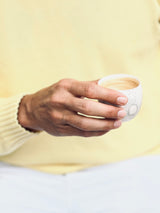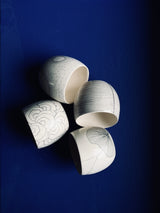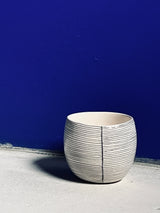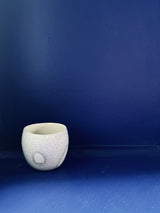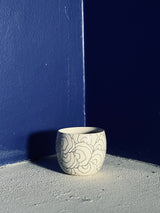 Payez en 3 fois sans frais
Les pièces pré-commandées seront expédiées dans un délai de 3 semaines.
---
General informations :
In stock, shipped within 72 hours.
Contents :
This box includes:
1 Shade Khaki
1 Light Clay Shade
1 Shade Mustard
1 Shade Gray
1 Shade Cloud
1 Shade yellow
Description :
A new box designed for them, all the men in our lives.

We wanted them to be round and generous, with harmonious, smooth curves...

They have a chic allure and a palpable elegance....

These cups have been specially designed to enhance the drinking experience.

Their ergonomic shape fits perfectly in the palm of the hand, offering a comfortable grip that invites relaxation and delectation, while preserving the coffee's intense flavor and aroma to the last sip.

Discover our special Father's Day set of 4 "Coffee, please!" espressivo cups.

Know how :
All the pieces in this Three Seven Paris box have been entirely made by hand, following a long technical process specific to our workshop. After the casting, drying and firing stages, each piece passes through the hands of our illustrators before being enamelled to preserve its color and pattern. After 12 days of manufacture, it is ready to join your tables.
Composition :
100% earthenware.
In the workshop, we work with white earthenware that we tint with natural pigments. The ivory color of our tableware is an integral part of the brand's DNA. Note that the shades of ivory may vary very slightly from one piece to another. The pieces are then illustrated freehand with engobe; mixture of slip and pigments, before being enamelled in a transparent and food-grade enamel.
Use & maintenance:
- Machine washable
- Do not use in oven or microwave
The finesse of our ceramic does not compromise their long-term solidity. Handle with care and precaution, avoiding shocks against your dishwasher, the table and between the products themselves.
The Three Seven pieces being made of earthenware, a porous material by definition, they do not like water baths, fearing stains and infiltrations. No dip for them: therefore prefer washing in the dishwasher, which in addition to being more economical in water, will ensure optimal drying of your piece to preserve it in the long term.
If washing by hand, a thin stream of water will suffice.